"Up on the Housetop" Lyrics




The Christmas song, "Up on the Housetop" was written by Benjamin Hanby from Ohio in 1864. It is believed this was the first time the idea of Santa Claus landing on the roofs of houses was brought up.
Most children will heartily sing this song, especially the chorus. Due to it's repeating words, children have an easy time remembering the lyrics. The Ho, Ho, Ho's can get very loud and sometimes are sung gruffly as though Santa himself is singing the song. It's pretty funny to watch.
A word of caution: This song does tend to spark conversations regarding Santa and chimneys. Many children do not have houses with chimneys and become concerned that Santa won't be able to bring them toys. I'm certain at least one child has had this concern every single year. Have your answers ready. After all, we all know that Santa can walk right through doors and windows, create chimneys and disappear whenever he wants. Right?
Here's the lyrics...
Up on the housetop reindeer pause
Out jumps good old Santa Claus
Down through the chimney with lots of toys
All for the little ones, Christmas joys

CHORUS:
Ho, ho, ho! Who wouldn't go!
Ho, ho, ho! Who wouldn't go!
Up on the housetop, click, click, click
Down through the chimney with old Saint Nick

First comes the stocking of little Nell
Oh, dear Santa, fill it well
Give her a dollie that laughs and cries
One that will open and shut her eyes

(CHORUS)
Next comes the stocking of little Will
Oh, just see what a glorious fill!
Here is a hammer and lots of tacks
Also a ball and a whip that cracks

(CHORUS)
Links to more Christmas Song Lyrics…
_________________________________________________________________
Fun things for kids to do…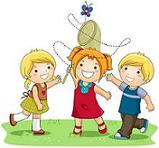 _________________________________________________________________
Looking for step-by-step instructions to start your own successful home-based daycare?
Check out my START A DAYCARE section. An all-free list of articles to guide you every step of the way.
For even more helpful hints, take a peek into the DAYCARE TIPS area.
_________________________________________________________________
from up on the housetop to music main page