"Frosty the Snowman" Lyrics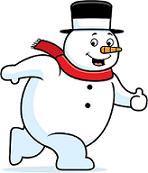 Frosty the Snowman is a popular song written by Steve "Jack" Rollins and Steve Nelson and was recorded by Gene Autry and the Cass County Boys in 1950. It's considered a Christmas song even though Christmas isn't even mentioned in the lyrics.
I know that, here in Minnesota, the kids can't wait to get outside to play after the first snow. One of the favored activities is building a snowman. Included in our snowman dress-up box is a black top hat so the kids can make their own Frosty. I can't say that our snowman has ever come to life, but who knows what snowmen do when you're not looking?
Include in your "snowman day" a viewing of the animated version of the song, a show produced for television by Rankin/Bass that first aired in 1969 and quickly became a childhood favorite.
And, of course, the kids will want to sing along, so... here's the lyrics.
Frosty the Snowman Lyrics


Frosty the snowman was a jolly happy soul,
With a corncob pipe and a button nose
And two eyes made out of coal.
Frosty the snowman is a fairy tale, they say,
He was made of snow but the children know
how he came to life one day.
There must have been some magic in that
Old silk hat they found.
For when they placed it on his head
He began to dance around.
O, Frosty the snowman
Was alive as he could be,
And the children say he could laugh
And play just the same as you and me.
Thumpety thump thump,
Thumpety thump thump,
Look at Frosty go.
Thumpety thump thump,
Thumpety thump thump,
Over the hills of snow.

Frosty the snowman knew
The sun was hot that day,
So he said, "Let's run and
We'll have some fun
Now before I melt away."
Down to the village,
With a broomstick in his hand,
Running here and there all
Around the square saying,
Catch me if you can.
He led them down the streets of town
Right to the traffic cop.
And he only paused a moment when
He heard him holler "Stop!"
For Frosty the snowman
Had to hurry on his way,
But he waved goodbye saying,
"Don't you cry,
I'll be back again some day."
Thumpety thump thump,
Thumpety thump thump,
Look at Frosty go.
Thumpety thump thump,
Thumpety thump thump,
Over the hills of snow.

Don't live in an area with snow? Don't let that stop you. Use white garbage bags stuffed with crumpled newspaper to create snowmen, indoors or out. Dress-up the snowmen any way you wish. Thrift stores are a great source for snowman attire. Don't stop with hats and scarves. Snowmen (ahem..snow people) can wear anything! Look for vests, ties, gloves, bonnets, aprons, even Hawaiian shirts. Make your snow people unique.
*When building snow people (indoors or out) have some hot chocolate ready when you are finished. Add three mini marshmallows and see if the kids can use their spoon to make a mini snowman in their cocoa.
The winter season is a special time in childhood. There are so many activities that can only be enjoyed after the snow falls. Enjoy the winter season. Yes, it's colder, but it's also beautiful and brings with it a magic all its own.
_________________________________________________________________

Links to more Christmas Song Lyrics…
_________________________________________________________________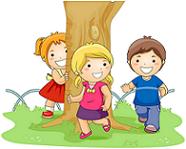 Fun for kids...
_________________________________________________________________
back to music main page
back to simply daycare home