"Here Comes Santa Claus" Lyrics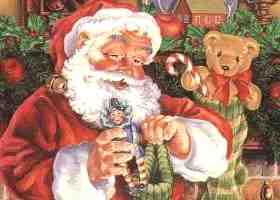 This Christmas classic "Here Comes Santa Claus" was written by Gene Autry and Oakley Haldeman in 1947 and it became instantly popular.
How could it not have? It includes all the elements that children associate with Christmas. The song has Santa Claus, reindeer, hanging stockings, a bag of toys and a line at the end that reminds children they should be sleeping when Santa comes.
It's also a quick, short song that kids will have no trouble learning and remembering the words to. Which means... they will learn it and will typically sing it loudly and with gusto!
To add a touch more fun when teaching this song, include a countdown to Christmas craft. Kids sometimes have a tough time understanding how long of a wait it is for Christmas.
Especially since the stores are decorated for Christmas long-long-long before the actual day.

"Here Comes Santa Claus" Lyrics


Listening to and singing Christmas songs puts everyone in a great holiday mood. Start the sing-a-long.


Here comes Santa Claus!
Here comes Santa Claus!
Right down Santa Claus Lane!
Vixen and Blitzen and all his reindeer
are pulling on the reins.
Bells are ringing, children singing;
All is merry and bright.
Hang your stockings and say your prayers,
'Cause Santa Claus comes tonight.

Here comes Santa Claus!
Here comes Santa Claus!
Right down Santa Claus Lane!
He's got a bag that is filled with toys
for the boys and girls again.
Hear those sleigh bells jingle jangle,
What a beautiful sight.
Jump in bed, cover up your head,
'Cause Santa Claus comes tonight.
Making a Christmas Chain

To make a paper chain, simply use construction paper cut in strips (stapled or glued) to form a chain of 24 links. We make these at the end of November using alternating red and green links. Connect the chain to a topper of your choice. Anything Christmas-ey will do. Add a loop at the top for hanging. The child takes the chain home, and starting December 1st, the child rips off one link per day. When the links are gone, Christmas is the next day. It's fun when the kids come in the morning and can announce how many days are left.
My own son, when he was young, ripped off a bunch of links in one day thinking that would make Christmas come faster. He was fairly sad to find out that it didn't work that way. Most children will, however, adhere to the one link a day rule.
_________________________________________________________________

Links to more Christmas Song Lyrics…
_________________________________________________________________
Looking for step-by-step instructions to start your own successful home-based daycare?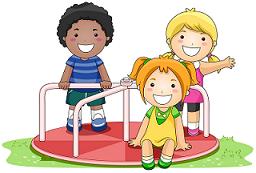 Check out my START A DAYCARE section. An all-free list of articles to guide you every step of the way.
For even more helpful hints, take a peek into the DAYCARE TIPS area.
For some fun kids activities, go to ART PROJECTS FOR KIDS for:
Art ideas using crayons, markers or paint
Super Simple Art
Easy Toys to Make and more…
OR… hop on over to the FREE PRINTABLES section to make planning activities for your daycare practically effortless.
You'll find:
Tooth Fairy Award and Envelope
Number Coloring Pages
Holiday Tic-Tac-Toe Games
Toddler Matching Games and more…
_________________________________________________________________