Free Printable Santa Letter


Free printable Santa letters are the easy way to find out a child's Christmas wishes. In the average daycare setting, the children are so excited about the upcoming holiday ... they talk about it for weeks.
They love everything about the holiday, but what intrigues them most is the idea of Santa Claus. They love hoping and wishing that Santa will bring them that one special item they want more than anything else.
And what is the best way to let Santa know a child's wishes? Writing him a letter of course!

So ... print off several copies of the letter and let the children get busy. Typically the children will be very excited about writing the letter. It's also interesting for the provider who will get to hear an assortment of wishes, some that are surprising. I was once told by a child that what he wanted more than anything was for it to snow on Christmas morning. He had moved to Minnesota from California a few months prior, and although he had the opportunity to see and play in the snow... he believed that Christmas morning snow was magical. He believed that if you made a wish while the snow was falling, your wish would absolutely come true!

_________________________________________________________________
_________________________________________________________________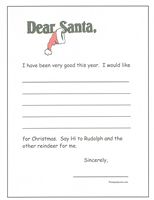 There are several ways this free printable santa letter can be used. Older children can, of course, simply be given a pencil to fill in their wishes.
Younger children can dictate what should be written on the letter.
OR... children can be given crayons to draw small pictures of what they are hoping for.
OR... save all the flyers and catalogs that arrive in the mail at this time of year. Let the children cut out pictures of what they would like to see Santa bring them, and paste the pictures to the letter.
Wait ... there's more fun.
Don't assume that writing the letters is all the fun there is with this project. Here's how to make the fun continue ...
Place all of the letters in a large manila envelope and address the envelope to Santa Claus at the North Pole. Let the children see you doing this and assure them you will take the envelope to the post office personally. (The fact that you won't is our little secret … wink, wink).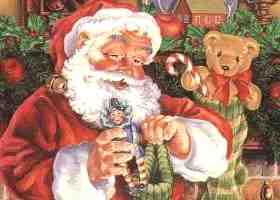 Then … get some holiday themed printer paper and write letters to the children FROM Santa Claus. Make sure each child's letter is written specifically to them, making each child's letter unique. Don't promise anything specific in the letter in reference to gifts, ... simply elude to the fact that Santa knows the child has been good and will be stopping by on Christmas Eve.
Print a copy of each letter on the themed paper, place in an envelope, and address a separate envelope for each child. Make sure the return address is, of course, Santa Claus at the North Pole.
I used simple address labels I printed out on the computer, but added a couple of Christmas stickers to the outside of each envelope to make it more festive.
**Make sure each letter has the correct postage.
Then … place all the labeled (and stamped) envelopes in a large manila envelope.
Address the manila envelope to:
North Pole Holiday Postmark
Postmaster
4141 Postmark Drive
Anchorage, Alaska
99530-9998

Letters must be received in Anchorage by December 15th. The kids will then receive "letters from Santa" with an "official" North Pole postmark.
If you think that kids are excited enough about Christmas … wait until you see their reaction to personal letters from the North Pole!
Fun things for kids to do…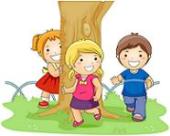 _________________________________________________________________

from free printable santa letter to printables main page