Easy Pizza Recipes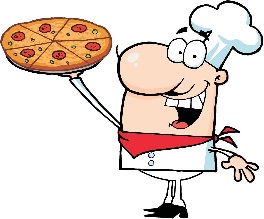 There are lots of kids easy pizza recipes that are perfect for a pizza theme. The best recipes create individual pizzas and are simple enough so that the kids can help make them. Simply choose one of the pizza recipes below to create a great activity and a yummy lunch.
All children LOVE the process of cooking. Each of the following recipes gives the children the chance to understand how pizzas are made and to create a lunch they will be more than willing to eat.
Buttermilk Biscuit Pizza
This recipe makes 20 individual pizzas. 
Ingredients:
Two cans of refrigerated buttermilk biscuits. Each can should be roughly 7.5 ounces and contain 10 biscuits.
1 can of tomato sauce. Add 1 teaspoon oregano, 1 teaspoon dried basil, and 1/8 teaspoon garlic powder.
2 cups Mozzarella cheese
Pat the biscuits into 2 ½ inch circles. Place on a greased baking sheet. Spread sauce over the biscuits and top with cheese. Bake at 400 degrees for 8-10 minutes. The edges should be lightly browned.

More Easy Pizza Recipes


Pizza Balls
Make sure the kids have all washed their hands well.This is easy pizza that is really fun for the kids.

Ingredients:
Canned biscuits. The small size, not Grands.
Mini pepperoni
Mozzarella cheese
Pizza sauce for dipping
Use kitchen scissors to cut each biscuit into four pieces. Here's the fun part…
Give each child three or four pieces of biscuit. Have them hold the pieces with two upturned hands put together. Add pepperonis to the biscuits and sprinkle with cheese. Have the kids squeeze the ingredients together to form a ball. Place the balls into muffin tins sprayed with cooking spray. Bake at 350 degrees for 15 minutes or so and the edges are golden brown.
Let cool some before eating and use dipping sauce if desired.
English Muffin Pizza
Place English muffin halves face-up on a cookie sheet. Spread some pizza sauce on each muffin. Top with pepperoni (if desired) and cheese.
Bake at 50 degrees for about 5 minutes until cheese melts.
Crescent Roll Pizza
Open a package of crescent rolls and lay the triangles on a baking sheet. Add a few pepperonis and 1/3 to ½ stick of string cheese to each triangle. Roll up and bake according to directions. Eat as is... or dip in pizza sauce.
Pizza Cups
Ingredients:
Flour Tortillas
Pizza sauce
Pizza toppings
Cheese
Use the empty pizza sauce can to create circles from the tortillas. Set the open end of the can on the tortilla and use a firm rocking motion to cut out a circle. Each tortilla should make 3-4 circles. Place the circles in a greased muffin tin. The tortillas do not need to come all the way up the sides. Add some pizza sauce to the cupped tortillas, the pizza toppings of your choice and cheese.
Bake at 400 degrees for about 10 minutes or so…
Cool before eating.
Bubble Pizza
Preheat oven to 400 degrees. Grease a 9x13 inch baking dish. Brown 1 pound of ground beef and drain excess fat. Add one 14 ounce can of pizza sauce to the ground beef. Set aside.
Cut up two packages (12 ounces each) of refrigerated buttermilk biscuit dough. Each biscuit should be cut into 4 pieces. Place the biscuits in the bottom of the baking dish and cover with the meat mixture.
Bake uncovered for 20-25 minutes. Sprinkle the top with 1 and 1/2 cups of mozzarella cheese and 1 cup of shredded cheddar cheese. Bake for another 5-10 minutes until cheese is melted. Let stand for 10 minutes before serving.
_________________________________________________________________
Lots of ways to have fun with a pizza theme. Color the flag of Italy, set up a dramatic play area, teach the history of pizza, make pizza puzzles and more...
_________________________________________________________________
| | |
| --- | --- |
| | Fun Activities for Kids |
_________________________________________________________________
back to preschool themes main page