Child Safety in the Home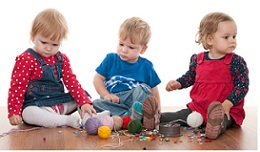 Child safety in the home is extremely important. There are many "hidden dangers" in the typical home. These are items that pose a danger for children, but may not be considered when making your home child-safe.
The following is a list of items that are potentially dangerous for children.
Any potential hazards must be kept out of reach of all children. This includes but is not limited to: knives, plastic bags, matches and lighters, balloons, tacks, screws, coins, razor blades, scissors, and batteries.
Remember too, that some foods such as grapes, hot dogs, popcorn, hard candies, nuts of any kind, etc. can pose a choking hazard for small children.
Monitor the use of electric fans. Children are fascinated by them and tiny fingers can fit inside.
Mothballs are poisonous.
The serrated edges on kitchen wraps are quite sharp and can cut the skin.
Baby powder can be dangerous if inhaled.
Drapery or blind cords are a source of strangulation. Follow the manufacturers recommendations for child safety in the home or install cordless window coverings.
Child Safety in the Home



Tablecloths (and the contents of a table) can be easily pulled down by an infant or toddler.
Lamps can be pulled from a tabletop by their cords.
Pillows or stuffed animals in a crib can be a source of suffocation.
Make sure window screens are secure. Do not, however, assume that a screen will keep a child from falling out the window. If you need to open a window in an area with small children, only open it 4-5 inches. Another alternative is to use window guards.
Some older homes have door stops with rubber caps, and small children have managed to get them off. To prevent this choking hazard, replace them with a screw in one-piece door stopper. These should be attached to the wall, not the door.
Many accidents have occurred due to reclining chairs. Children's fingers and literally their heads have become stuck between the chair seat and the foot rests.

Look out for toys with loose parts. Small parts are a choking hazard. Keep toys meant for older children away from the younger ones. My own daughter at the age of one, would stick anything she could find up her nose. I'd be embarrassed to tell you how many times she accomplished this feat, but suffice to say the tiniest Lego's were her favorite. Double check to make sure all the pieces of a toy or game are picked up. If you have a child like my daughter, triple check… and then check again.
This list is by no means complete. Hazards are potentially everywhere, so examine your home closely. Always use common sense when dealing with small children.
_________________________________________________________________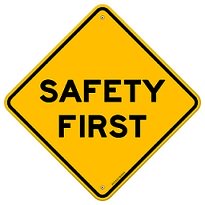 As a child care provider, your top priority is the safety of the children. PLEASE... take the time to look over the entire safety section.
When you have an in-home daycare... child safety in the home is your responsibility. Learn all you can to keep the children in your care safe.
_________________________________________________________________
from child safety in the home to safety main page