Contact Me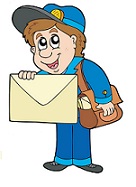 Do you have a simple daycare question? This site was built with the daycare beginner in mind. If there is something you would like explained in more detail or an answer you are unable to find on the site, just let me know.
Do you have a question or comment regarding this site? I welcome all comments.
Contact me using the form below.
I personally answer all mail (and in a timely manner too). So, don't be shy...I'm looking forward to hearing from you.
Roxie
* Please double-check your e-mail address. I have received a few e-mails I have been unable to answer. This is frustrating for me and, I'm sure, for those who were unable to receive a reply.